About / Contact Store Poetry Recipes Policies T-Shirts NEWS








Also streaming on Apple & Soundcloud.

June 2022:
A Short Story, a Jesus comic, a babysue comic, Magazine PDFs and News, Views & Perspectives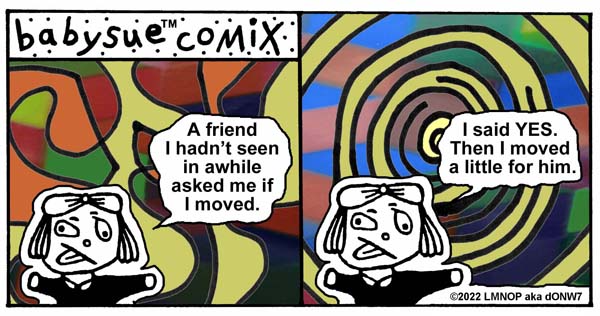 ---


King of the Biggest Kingdom

The long hot days of summer was there already and Ronnie knowed it. He spent his best days layin' real lazy-like down by the fishin' hole, stirrin' up dreams of landing the biggest fish anyone had ever saw. Perched back up against a log, Ronnie was almost headin' into slumberland when he heard a voice.

"What kinda baitcha got thar?" the bold voice asked.
"Wuuuuh?" was all he could say at first. After a couple of blinks he replied, "Just usin' all I got. That's worms."
"Well that's yer problem, boy," the man said. "You ain't never gonna catch nuthin' without the right bait."

And with that, the man put his hand in his trouser pocket and pulled out the most purdy damn cricket you ever seed.

"Put this on that hook and show 'em you're a man," he said.

Ronnie took hold of the cricket and eyed it closely. It was all green and shiny and it made weird sounds. He pulled his line in and replaced the worm with the new bait, much to the dismay of the cricket.

"Hey, thanks Mister!" Ronnie whispered happily.
"Don't mention it kid," the man said. "When I was your age nobody kept me from bein' stupid."
"I ain't stupid!" Ronnie yelled.

Then he chased the man clear out of the area in a bang. Before he knew it, he was alone again sittin' on the bank...thinking about how this new bait just might make a difference. Within a few minutes his eyelids was gettin' heavy again. But just when he started to nap, he heard a girl speak.

"Whatever have you got on the end of that line?"

The little girl must've not been more than eight or ten years old, but she had the neatest yarn-textured hair and an odd little smirk that made her look like an amoeba. But she seemed like a right nice sort, if there was any.

"I'm a' usin' this cricket!" Ronnie replied as he proudly held up his new improved bait.
"Tsk, tsk...boys!" the girl whispered, as her eyes rolled completely to the back of her head. "You'll never catch nuthin' with that!"
"Well, what should I use then?" Ronnie asked, puzzled as to why yet another person was trying to give him advice in this particular area.
"They prefer cake," the girl said.

And before you could say Parking Lot Ticket, her hand displayed a right perfect tiny slice of pink and purple cake with swirly twirls all over the tippy top.

"Gosh, thank you!" Ronnie gushed.
"Gotta run or I'll be late!" she said before whiskin' away down the lane.

Ronnie removed the cricket, and managed to smush enough of the cake on the hook to make it stay. Then he threw his line back in the water and immediately fell asleep. Several hours later a strange sound woke him.

"What bait?" a deep voice growled. "WHAT BAIT?"
"Uh...cake..." he said as he tried to focus his eyes on whatever it was that was speakin'.
"Never catch nuthin' with cake," the thing said. "I know bait that will work."

Without giving it much thought, Ronnie pulled his line back in and removed the wet soggy cake from the hook. Then he tried to hook the dark amorphous figure with it.

"Ouch, you HURT me!" the thing said loudly as it pulled away in a huff of thick black smoke.
"But I thought you wanted..." Ronnie stammered.
"You thought! You thought!" the thing yelled. "That's the one thing you ain't done is thought about NUTHIN'. . . !"

This was real scary for such a young boy. So Ronnie ran right away home because he figured there was no point in fishing today anyway. He ran as fast as he could. But when he got home, all he found was a little cardboard box where his house once sat. He picked it up and looked inside. And there inside he found a beautiful jeweled crown and an exquisitely ornate scepter. As he placed the crown on his head he heard a huge voice booming down from above the clouds.

"You is KING of the BIGGEST KINGDOM!" the voice commanded.

And with that, Ronnie felt a sharp jerk and found himself suddenly bein' yanked real hard by something. Everything turned white and barely visible. A shifting audio sizzle whizzed through the ocean sky before cuddling up to the waddle of shoo-shoo dog cameras. Then, just as soon as it had started, it all stopped.

When everything had stabilized and was still again, Ronnie looked around and found that he was now living in a huge castle with midget servants catering to his every whim and need. He no longer needed his fishing pole because he had a beautiful sceptre. And instead a goofy little boy cap, a lovely crown was sitting on his head. Ronnie felt good inside because he knew he would have the respect and admiration that he had sought for such a very long time. He was now King of the Biggest Kingdom.

"Who gives a damn what fishes will and won't eat!" he declared. Ronnie held his sceptre high and beamed broadly for all the world to see.

And that is how the horse got its mule wings to stay planted in place on the evenin' of the crackle shucker. And this was all done before the chill of fall had even begun to grip the tippers of the mousey runt shoreline.



THE END


---




George Pal's PUPPETOONS

I am embarrassed to be so late getting in on this stuff. I had seen some of the curious Puppetoons in the past, but was not paying close attention. George Pal is best-known for the effects he created for the 1960 science fiction motion picture The Time Machine (many now refer to him as the Father of Science Fiction). But that is most definitely not his greatest achievement. You may recall a movie released a few years back entitled The Puppetoon Movie. Compiled by Arnold Leibovit, the movie presented a collection of George Pal's curious film shorts. Since that time Leibovit has delved even further into the world of George Pal. And he is now releasing super incredible cleaned up Puppetoons in high definition on blu-ray that are LIGHT YEARS beyond anything anyone has ever seen before, period. These newly restored Puppetoons are so incredible that they will absolutely blow your mind into another universe. If you have ever seen them in the past, you ain't seen NUTHIN' until you see the new high definition versions. The difference between the old versions and the new ones is staggering. Watching these weird visuals, I kept wondering how on earth they were created, mainly because they have an unusual trademark look that is unlike anything else out there. I found out why. George Pal was delving into a new type of animation he created call Stop and Replace. Very different from Stop Motion animation, Stop and Replace is exactly what it says. For each frame, you replace the characters with new ones. And that means that each short Puppetoon involved the creation of thousands of handcrafted puppets and pieces that were required to make the final product. These amazing puppets were made of wood and latex...(!) When you consider the time and skill involved, it seems amazing that it was ever even possible to create these short trippy films. All of this made me start thinking, so where ARE all of those thousands upon thousands of little puppets? Searched around but couldn't find a single one. There is, unfortunately, a reason for that. Pal's California home containing his original artwork and puppets burned and nothing survived. Fortunately, George was apparently a very generous man and gave away many puppets over the years. So some did manage to survive. Anyway...do yourself a favor and pick up the remastered blu-rays released by Arnold Leibovit (some still available at Puppetoon.net). Each is a limited edition so...once they're gone, they're gone. The first and second Puppetoon Movies will boggle the mind. The great news for all of us is that a third one is coming soon. Pal's life story is fascinating. Search his name and read all about this incredibly talented individual who has influenced so many people in so many different genres.


---
babysue: Recipes For The 90s, Volume 2, Issue 3
, from 1990.
See
all PDFs
here
and
here
.
Note: Opinions expressed are not necessarily the author's opinions.
---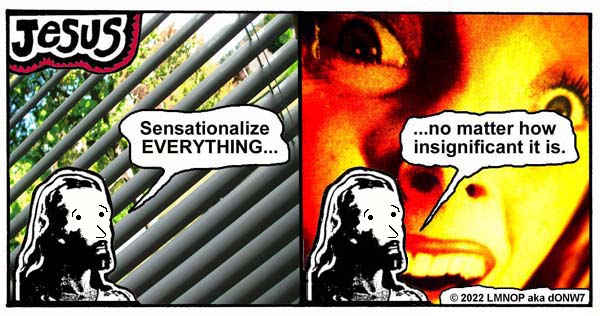 ---

June 2022: News, Views and Perspectives
There are some labels that are so good that you know anything they put out is credible and cool. One such label is Org Music, a name that is always associated with interesting and intriguing artists and music. Run by Andrew Rossiter, the label releases a variety of different types of artists. And the only thing they all have in common is that they are creative, interesting and real. The label has just reissued two classic albums from the past on vinyl. The first is Detective (featuring vocalist Michael Des Barres of Silverhead fame). Pressed on silver colored vinyl, this one is limited to 2,000 copies. The second vinyl release is Jeannie C. Riley's Harper Valley P.T.A. (released in conjunction with Sun Label Group, LLC). Both are high quality releases with packaging that rivals the originals. Listeners would do well to listen to anything and everything on the Org Music label. Speaking of cool labels and music, Crafting Room Recordings (based in the United Kingdom) has just released a new full length vinyl release by the band Mercvrial entitled Brief Algorithms. This band has already impressed lots of folks with their credible inventive music and this album is bound to fan the flames around the world. Cool credible music that will most certainly stand the test of time. Incredibly fantastic news just received...the folks at Cherry Red Records in conjunction with Grapefruit Records are releasing a CD this month entitled Frabjous Days: The Secret World of Godley & Creme 1967-1969. The CD will feature the first studio recordings by Kevin Godley and Lol Creme before they joined the bands Hotlegs and 10CC. In the late 1960s their band was Frabjoy and Runcible Spoon. Kevin and Lol are both gods in my mind, so I can hardly wait to hear these early recordings. Graham Gouldman and Eric Stewart even play on some of the tracks. Triple WOW. There's a new credible band that has appeared on the horizon called The Grain Hoppers. Yet another project created by ultra-prolific singer/songwriter Wallace Dietz, the band presents songs that are more roots-oriented than in Dietz' other two groups. Speaking of, if you've never heard the bands The Silent Boys and Steam Train Hearts...you should. In a perfect world, this man's music would be heard everywhere. It is definitely not the superstar slop that most people listen to and support in 2022.

Rango. If you've never seen Rango, you should. Even if you hate westerns (I usually do), you are guaranteed to find this motion picture extraordinarily interesting. It is a bizarre satire of every western you've ever seen. I came across the movie by accident and figured it would be more twenty-first century animated slop that I would stop watching after a few minutes. NOPE. Be sure to watch for at least 15 or 20 minutes to give it time to get going. Before you know it, you will be hooked. Produced by Gore Verbinski, Rango features the MOST incredible animated animals OF ALL TIME. These hideously strange and sometimes disgusting animals leave Disney and Pixar creatures in a tiny pitiful trail of dust. Surreal and at times hilariously funny, Rango is one of the trippiest things I have ever seen. In addition to some of the strangest animals ever created, the voices are THE BEST...and an absolute perfect fit for each character. Easily one of the best animated motion pictures of all time, Rango is an experience you will never forget.

NOTABLE NEW RELEASES
Disco Sisters - Beat of the Night. GmBt Life - 10 Minutes. David Newbould - Power Up (Blackbird Records). The Coffis Brothers - Turn My Radio Up (Blue Rose). Blue Soul Ten - This Is Worth It. Rafael Greco - Dice Que Vive (Signs of Life) (Blue Canoe Records). Asaf Ashkenazy - Dog In Yard EP. Fresh - Raise Hell (Get Better Records / Specialist Subject Records). Joel Tyler Wall - F.I.T.H. (Kool Kat Musik). Jarad Miles - Standing Upon This Array. Legless Trials - X Tyrant (Metal Postcard Records). Delphine Dora - Hymnes Apophatiques (Morc Records). Hats Off Gentlemen - The Confidence Trick (Glass Castle Recordings). Nine Mile Station - Open Highways (Southside Records). Michael McDermott - St. Paul's Boulevard (Pauper Sky Records). Slang - Cockroach In A Ghost Town (Kill Rock Stars). Panda Riot - Extra Cosmic. Fake Shape - Night Swim EP. Anhedonia - Twelve Days In June. Spygenius - Jobbernowl (Big Stir). Walker Brigade - If Only (Big Stir). Reaven - For Tomorrow. The Rolling Stones - Live at the El Mocambo. Cabin Boy Jumped Ship - Sentiments (AFM Records). John McDonough - We'll Answer the Call EP. Icicle - Axioms (Herd Records). Junk It - Statement of Intent. Christoffer Franzen - Fusion: Music for TV and Film (Deep Elm). R.E. Seraphin - Swingshift EP. Beau Atkins - Redfearn EP. The Band That No One Has Ever Heard Of - Songs That No One Will Ever Hear. Big Bunny's Hoppy Floppy Treehouse - Sing Songs That Big Bunny Gives Damns About. James Taylor - You Ain't Got No Friends Nor Other Unrelated Substances. Janis Ion - Seventy (Columbia). Steppenwolf - More Songs For Pathetic Fat Old Bikers. Ariee - Fiya EP. Seth Walker - I Hope I Know (Royal Potato Family). Yatra - Born Into Chaos (Prosthetic Records). Keegan Powell - Previous Pain. Thundermother - Black and Gold. Dawn of Ashes - Scars of the Broken. Mark Kibble & Steve Khan - Island Letter (Blue Canoe Records). Triptych - The Sun Sawed In 1/2 (Kool Kat Musik). Bae Baracus - Chaos Is Money. The Rocketz - Lovesick & Heartbroke (Generation X-Ray Records). Pineapple - Trials (Metal Postcard Records). Marco Benevento - Benevento (Royal Potato Family). Try The Pie - A Widening Burst of Forever (Get Better Records). Andrew Adkins - Rattlesnake Motions. Matthew Burtner - Icefield (Ravello Records). A Fragile Tomorrow - It's Better That Way (MPress Records). Golf Slang - How I Lost My Voice EP. Sonagi - Precedent (Get Better Records). The 1957 Tail-Fin Fiasco - Don't Go Anywhere (Kool Kat Musik). And The Broken - Black and Blue EP. Boo Sttcliffe - You're the Same As Me EP. NewHaven - NewHaven (FnA Records). D. G. Adams - Digging For Flowers EP. Steven Casper & Cowboy Angst - Steven Casper & Cowboy Angst (Silent City Records). Circus Mind - Bioluminate (Outhouse Music). Clint Bahr - Puzzlebox (Moonjune Records). Mahogany Frog - Faust (Moonjune Records). Stick Men - Tentacles (Moonjune Records). Dewaere - What Is Pop Music Anyway? (A Tant Rever du Roi). Baby Fire - Grace (Off Records). No Metal In This Battle - Disco Dans Ta Cave / Fano (Don't Trust A Bear Records). Sonagi - Precedent (Get Better Records).
[This section only includes full-length releases and EPs.]