About / Contact Store Poetry Recipes Policies T-Shirts NEWS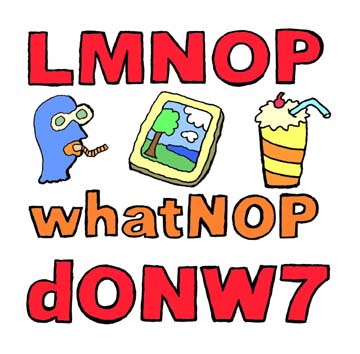 Also streaming on Apple & Soundcloud.

March 2022:
More babysue comics, a Jesus comic, abstractions, Magazine PDFs and News, Views & Perspectives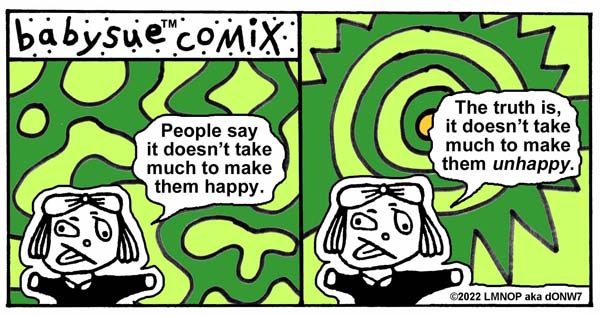 CHILDREN AND ADULTS

When adults grow up
Children get small.
When children grow up
Adults become tiny.
When they all grow up
They all get small and
Whiny.

FORGOTTEN

It is better
To be ignored than
Noticed.
It is better
To be forgotten than
Remembered.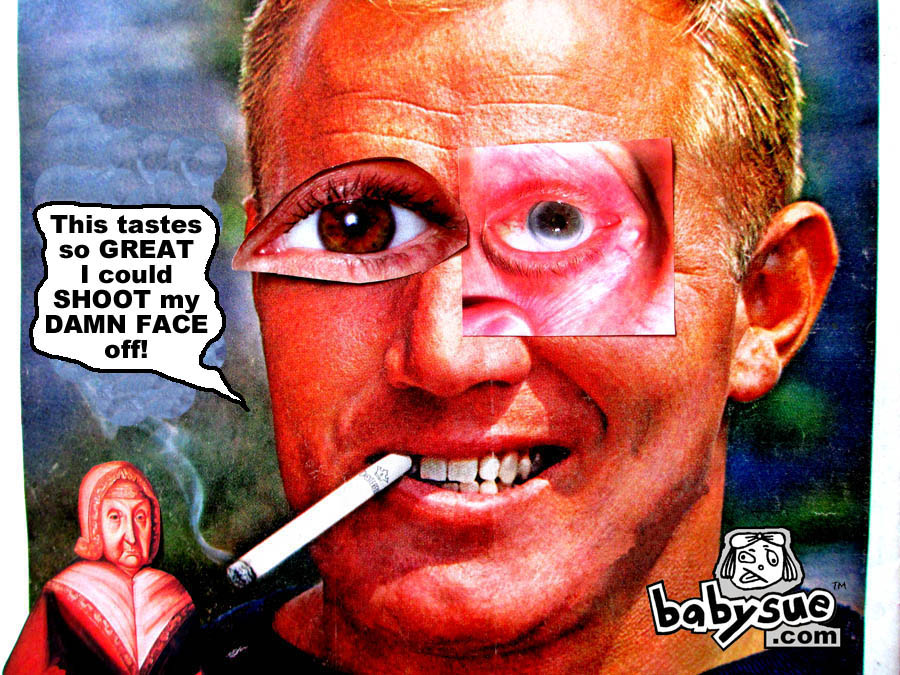 99 100

99 percent
Of everything
Equals 100 percent
Of nothing.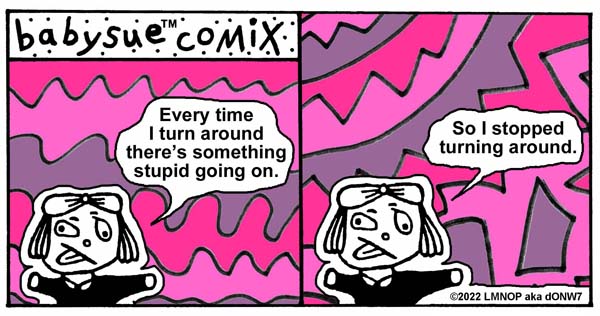 FUTURE MINUTE

The future

Will be the present
In a minute.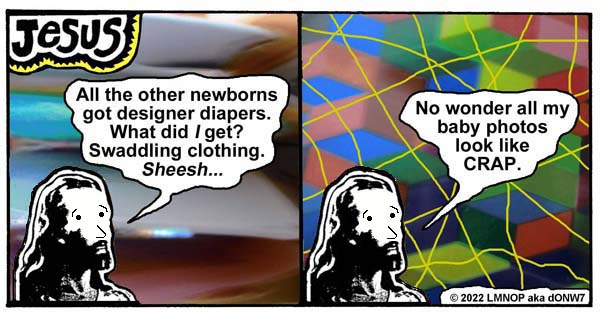 Taking Advantage of Technology
and some
comics
(from 1998)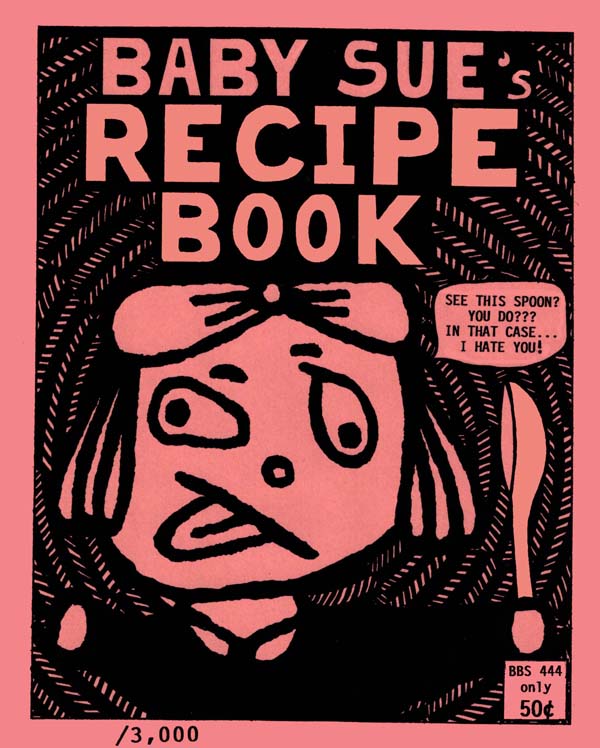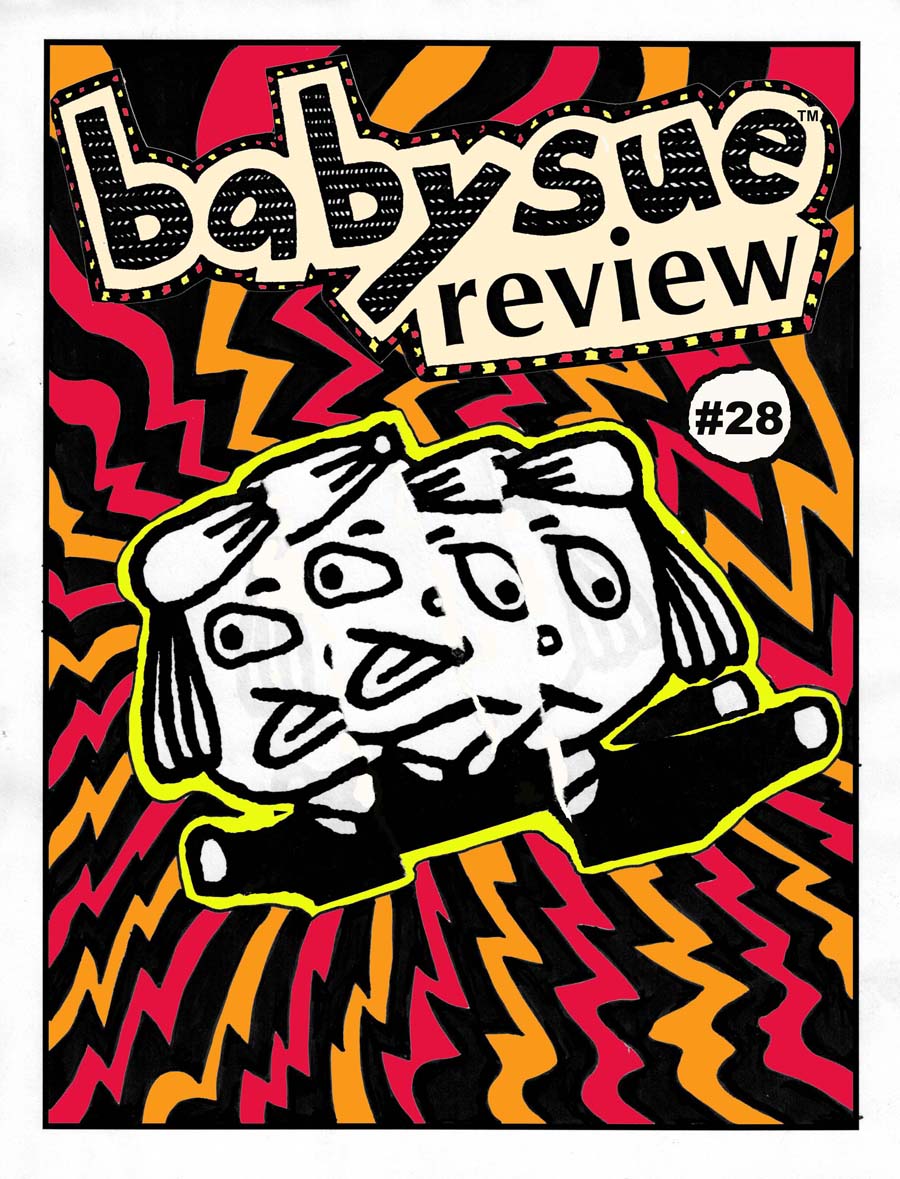 Click on covers above to view PDFs.

This month's newly uploaded PDFs are
babysue's Recipe Book
(Volume 1, Issue 3, from 1985) and
babysue Review #28
(from 1998). See
all PDFs
here
and
here
.
Note: Opinions expressed are not necessarily the author's opinions.
March 2022: News, Views & Perspectives.

Miscellaneous. Interesting new music out from Sweden's David Ahlen. He has just released an dreamy song and video entitled "And Her Voice Was Heard." Ahlen's music is a strange combination of ambient, classical and pop music and the imagery is interesting. The song has been released in advance of his upcoming EP Watch and Pray (Jivvar Records). If you're ever in Kansas City, Missouri (of if you live there) you should check out GotWhatULike Records on Hickman Mills Drive. This super cool store is run by open-minded individuals with great taste and a keen sense of humor. Very cool. It's always cause for celebration when a new Ex Norwegian album comes out. The band has just released Spook Du Jour, their thirteenth (!) album. This band never disappoints their fans. The guys in the band Underlined Passages have a new album out called Neon Inoculation. A cool spin, and an interesting blend of elements from all over the place. These guys always deliver the goods. Everyone has been waiting for years to hear new music from Great Britain's Sissy and the Peanut Blotters. The wait is over, and fans are already raving about the new album. Titled Crushed Up Meat Steaks With Electric Munch Mittens for Kevin and the Party Poppers meets and exceeds all expectations about what the band has always been capable of. Search for the artist Velveeta Heartbreak on bandcamp, and you'll be treated to a huge amount of material by the late great Michael J. Bowman. An incredibly talented and prolific musician, Bowman recorded music for many years under his own name as well as the names MJB-90, Magik Plastique, Junkbunny, Chop Suey, Droneforest and Cloud. His music can now be appreciated by a whole new wave of listeners. Bowman was an exceptionally talented home recording artist and his presence is sorely missed in the world of underground music. I finally got around to listening to Lamb. This British duo makes some amazing electronic pop. Smooth and melodic with all kinds of nifty audio surprises shifting in and out of the speakers. Speaking of finally.... I also finally got around to listening to the Del Fuegos at the suggestion of a friend. These guys were good. No wonder their music continues to receive rave reviews on the internet. Lots of bands are now having their music included in the vegetable portions of frozen TV dinners. The trend is catching on in a big way, clearing the way for lots of new artists to begin receiving large royalty checks and instant offers from a wide variety of important famous connections. The guys in Red Sleeping Beauty will release their fifth full-length album later this year, be on the lookout for it.

Snap Into The Real World. For better or worse, the Internet will always be a part of our everyday lives. But you may find that the world around you is far more rewarding...and ten thousand times more real.

Gene Autry Still Ridin' High. I love that whole phase from America's past when people genuintely enjoyed watching completely unrealistic phony westerns featuring some of the squeakiest clean cowboys the world has ever known. The King of the Cowboys was and always will be Gene Autry. All the others (Roy Rogers, Tex Ritter, John Wayne, etc.) pale in comparison. If you have never watched Gene's television series, I highly recommend it. It's a truly great escape from all the tedious annoying issues that plague our world in 2022. The Doublemint Gum commercials are hilarious. And there's nothing like watching Autry get up from a rowdy fistfight without a speck of dirt on his clothes. Meanwhile, that damn neckerchief always stays perfectly in place at all times. A couple of interesting facts. Autry starred in seven to eight movies each year during the 1930s to the 1950s (that's a lot). And although he was married twice, he never had any children. Gene was a magnetic handsome fellow with a killer voice. He wasn't much of an actor, but that kinda makes him even more appealing. Over time his music has held up extremely well. His television show is a hoot. Gene Autry will forever be the King of the Cowboys. Yeeeeeee-HAW!

NOTABLE NEW RELEASES. Karney - Gonna Be Beautiful (Karney Music and Sounds). Aaron Skiles - Wreckage From the Fire (Dr. Sam G Records). Pearie Sol & The Raindrops - Real Happiness (HHBTM Records). Mild Mild Country - Never Had A Touch To Lose (HHBTM Records). Great Lakes - Contenders (HHBTM Records). Good Grief - Shake Your Faith (HHBTM Records). Swansea Sound - Live at the Rum Puncheon (HHBTM Records). Oligarchy Withers - Until There's Nothing Left to Imagine. Jori Larres - Intervals. Kill Shelter & Antipole - A Haunted Place (Manic Depression Records). Lights & Motion - The World I Remember (Deep Elm). Coke Belda - 6: My Tribute to Los Brincos (Kool Kat Musik). Chris Castino & Chicken Wire Empire - Fresh Pickles. Cactus - The Birth of Cactus - 1970 (Purple Pyramid Records). Neville Staple - From The Specials & Beyond (Cleopatra Records). Between Beach and Forest - Between Beach and Forest EP. Robert Schroeder - Spaces Of A Dream. Pearl Bailey - I Can't Find My Cat Anywhere (Tanglepost). Massage - Oh Boy (Mt.St.Mtn.). Weekend Recover - No Guts All The Glory EP (Criminal Records). Round About - Inner Voices and Curious Choices. Janine "J9" Carter - Destructo. Derek Vanderhorst - Wildflower. Bad River Beavers - Beavers in Bad Rivers (Robbity Roonich). The Teen Punk Niblets - Hardly Worth Nibbling (Numpkin Nattle). Randolph the Rump-Nosed Drain Clear - Corpse Songs For Plotters and Sneer (Mitter Bonn). John Howard - Look: The Unknown Story of Danielle Du Bois (Kool Kat Musik). Jeff Tracy - Change of Perspective. Trout Fishing in America - Safe House. May Erlewine - Tiny Beautiful Things. Graeme James - Seasons. Jon Chi - River of Marigolds. The Kut - Satellite (Criminal Records). Rage n' Rox - Love On The Rox. Gentle Party - God Complex.
[Note that Notable New Releases does not list singles, only full-lengths and EPs.]