babysue Store * Donate * Contact * Jokes * LMNOP aka dONW7 * Poetry * T-Shirts * Review Policies
July 2012
~ ON VACATION ~
* WE WILL RETURN ON AUGUST 1, 2012 *
A
Abundance - Manner effect
Jason Adamo Band - Bricks & mortar
A Dangerous Method - Original motion picture soundtrack
Age/Sex/Occupation - This side of the fence
Miguel Algarin / Albey Balgochian - Soul to sol
All The Right Moves - The monster I've become
Amenities Package - Out of phase
American Revolution - Buddha electrostorm
A Midsummer Night's Dream - The winter's tale
Ammo Without A Gun - Ammo Without A Gun
Answers To Nothing - Original motion picture soundtrack: Music by Craig Richey
Richard Anthony - Love is the power
Auburn - Indian summer
Danielle Aument - Songs for you
Authorities - King pao au go-go
Avengers - Avengers
Axel's Axiom - Uncommon sense
Azud - Mrindle
B
Backwords - By the neck
Dave Ball - Don't forget your alligator
Bill Barner - Ten tunes
Bonnie Barnett Group - In between dreams
Bernie - Original motion picture soundtrack
Ivan "Funkboy" Bodley - Look at that cookie
Alisa Boniello - Lovestruck
Anna Borges & Bill Ward - Receita de samba
Francis Bowie - Francis Bowie
Crystal Bright & The Silver Hands - Muses and bones
Bucket Boys - Leavin'
Burning River Gamblers - Burning River Gamblers
Adam Burrows - Tall tales
C
David Caceres - David Caceres
Caltrop - Ten million years and eight minutes
Campbell Apartment - In
Tim Carey - Room 114
George Carill - Relevant
Carter Calvert - And the Roger Cohen Trio
Jeff Campbell - Stop and go
Guy Capecelatro III - North for the winter
Casa De Mi Padre - Original motion picture soundtrack
Case Theory - Cinematic
Susan Cattaneo - Little big sky
Celeste - Ready to fly
Sergio Cervetti - Nazca and other works
Cheers Elephant - Like wind blows fire
Chief Fuzzer - Transcendental road blues
Churchwood - Just the two of us
Citadel Besieged - The winter of evermore
Dawnya Clarine - Walking on water
Coke Weed - Nice dreams
Phil Collins - Live at montreaux 2004
Comanchero - The undeserved
Dylan Connor - Primitive times
Convalescents - Armageddon
Copernicus - Live! In Prague
Copernicus - Victim of the sky
Copper Gamins - EP
Corduroy Road - Two step silhouette
Cornflower Blue - Run down the rails
Chris Cortez - Aunt nasty
Crooked Saint - Sweating bullets
D
Trent Dabbs and Amy Stroup - Sugar + The Hi-lows
Peter Daltrey - King of thieves: The best of Pter Daltrey Volume 2
Dare Dukes + The Blackstock Collection - Thugs and china dolls
Darkest Hour - Original motion picture soundtrack: Score by Tyler Bates
Danny Darts - American songwriter
Ryan Davidson Trio - Ryan Davidson Trio
Dawns - Limited EP
Days of Grace - Original motion picture soundtrack
Dead Rat Orchestra - The guga hunters of ness
Deep Purple - With orchestra: Live at montreux 2011
Deep Purple - Total abandon Australia '99
Delta Moon - Black cat oil
Xander Demos - Guitarcadia
Jon DeRosa - Anchored EP
Jon DeRosa - A wolf in preacher's clothes
The Descendants - Music from the motion picture
Tony Desimone - The second time around
Disseriph - Disseriph
Donna and Doug - Take the day off
Doors - Mr. mojo risin': The story of l.a. woman
Drowned In Meaning - Drowned In Meaning
Drunken Prayer - Into the missionfield
John Du Cann - The many sides of 1967 - 1980
Dumb Blonde - Miss guy
Xenia Dunford and the Eastern Exile - Lonely streets
E
Earps - A tribute to Buck Owens: Buckle up!
Yelena Eckemoff - Forget me not
Electrik Emily - Radio active
Electrik Emily - Stiletto rock
Elika - Always the light
Annalise Emerick - Starry-eyed
Empire Escorts - Empire Escorts
Engloria - Drive EP
EWW Yaboo - So many of the kids b/w Make it fast
Adam Ezra Group - Ragtop angel
F
Finding Clyde - Sacrifice it all
Tim Foljahn - Songs for an age of extinction
Forbidden Dimension - The golden age of lasers
Foreigner - Alive & rockin'
Forever Her Nighitmare - The rebirth
Bill Fox - One thought revealed
Frank - Here together
Ian Franklin and Infinite Frequency - Breaking grounds
Frequency - Frequency
Furious Seasons - My analog face
G
Peter Gabriel - Live blood
Will Galison - Line open
Jose Garcia - Songs for a lifetime
Jackson Garrett - Let sleeping dogs lie
Steve Gates - A bee in her mouth
Gazpacho - March of ghosts
Robin George & Vix - You
Jenny Gillespie - Belita
Grannies Club - Wait & see
Gone - Original motion picture soundtrack
Ash Gray and the Girls - Born in the summer
Nathan Griffin - Nathan Griffin
Katie Guthorn - Why not smile?
Guzzer - Who hit the guzzer
H
Habit - Lincoln has won
Hard stuff - Bolex dementia
Hard stuff - Bulletproof
Sylvia Herold and the Rhythm Bugs - The spider and the fly
Harris Group - Choices
Gavin Harrison & Osric - The man who sold himself
Josh Harty - Nowhere
Jason Heath and the Greedy Souls - Packed for exile
Hillbily Vegas - Ringo manor
Homespun Remedies - Great depression
Penelope Houston - On market street
Russell Howard - Cityheart
Hully Blower - Hully dulls the blower
Huxter - #2
I
Illdotlogic - Dreams in stereo
Illness - A monument to our gilded age
I Melt With You - Original motion picture soundtrack
Inner Flame - A tribute to Rainer Ptacek
Insects of the Underground - Mind matter
Iron Lady - Music from the motion picture
Iveys - Days & nights
J
Jackity Jack Jack - Jackity all the way home
Olivier Jarda - Good luck cartel
Jack Jeffery - The constant that remains
Karen Johns & Company - Peach
Justin Jude - 5 kinds of rain
Mike June - Exile on wilson street
K
Kaaa - A is for zebra
Bruce Kaphan Quartet - Bruce Kaphan Quartet
Naama Kates - The unexamined life
Dave Keener - The easy way
Art Kenyon - Art Kenyon
Kid Savant - Drop it on the stereo
Kevn Kinney - A good country mile
Susan Krebs Band - Everything must change
L
Josh Levinson Sextet - Chauncey street
Leslie Lewis - Midnight sun
Light - 1102/2011
Light the Black Skye - Looking out looking in
Little, Big - Pins and narwhals
Lola Versus - Original motion picture soundtrack
Longreef - Dirty motel
Loop 2.4.3 - American dreamland
Lost Lovers Brigade - Skeletons
Jessica Lynne - Spiritual cowgirl
M
Manooghi Hi - Silence
Lisa Marie - Summertime jazz
McCormick Percussion Group - Concerti for strings with
Memorials - Delirium
Mommyheads - Vulnerable boy
Money In The Banana Stand - Giant steps II
Monks of Mellonwah - Neurogenesis
More Music From - The Rum Diary
Morning Set - Morning Set
Ken Will Morton - Contenders
Mr. Meaner - Drinking again
MSB Family Band - MSB Family Band record
Maria Muldaur - Christmas at the oasis: Live at the rrazz room
Putnam Murdock - Brand new widow
Dale Murray - Dream mountain dream
MW Ensemble - MW Ensemble
My Furious Frenzy - Venus on fire
N
Arthur Nasson - West cambridge cowboys
Nearly Beloved - Where's bob
Lukas Nelson - Wasted
Willie Nelson - Remember Me Vol. 1
Thea Neumann - Lady and the tramps
David Newberry - No one will remember you
Nfected - Karate style 2
Night Genes - Like the blood
Nobox - Hollywood is on fire
No End Of Now - Some music we made
O
Old Time Machine / Old Cabin - Split EP
Old Time Machine - Old Time Machine
Oliver Dawson Saxon - Motorbiker
Once: A New Musical - Original broadway cast recording
Oooooooo - Looooooo
Open Hand - Mark of the demon
Ryan David Orr - Mordred the quarter known
Our Lives - Out of place
P
Painted Blind - Painted Blind
Papa Juke - Out of the blues
Paranha 3DD - Original motion picture soundtrack
Pariah - Original motion picture soundtrack
Petunia & The Vipers - Petunia & The Vipers
Sal Piamonte - Lives in devil city
Plastic Arts - Academy clonez
Vajra Pleroma - Vajra Pleroma
Poor Young Things - Let it sleep
Porter Draw - California widow
Pow Wow Now - Let's have a pow wow now
Doug Prescott - The journey and the deep blue sea
Projection - While you were out
Pz - Pz 4 Pz
Q
R
Rags & Ribbons - The glass masses
Leandra Ramm - One night with you
Davide Ramos - Sento la tua mancanza
Ray Mann Three - Sketches vol. 1
Reach Around Rodeo Clowns - Dark days dark nights
Reanimation - Giants hide among us
Red Jasper - Sting in the tale
Red Moon Road - Red Moon Road
Red Wanting Blue - From the vanishing point
Kate Reid - The love I'm in
Riddle the Sphinx - Professional pretender
Donald Ridings - From the wild EP
Rivethead - Doomsday for optimism
Rockabye Baby! - Lullaby renditions of Depeche Mode
Rockabye Baby! - Lullaby renditions of The Smiths
Rockdoves - From the birds
Riff Rockit - Riff Rockit
Jeff Root - Fossil rock
Walter Rose - Cast your stone
Alan Rosenthal - Just sayin'
Rubblebucket - Live in chicago
Rum Diary - Original motion picture soundtrack: Music by Christopher Young
Mike Ruocco - Too late
S
17 Pygmies - CIII: Even Celestina gets the blues
65's - Strike hard!
Sad Little Men - I'll be the octopus
Rachael Sage - Haunted by you
San Francisco Music Club - Love & freedom
Amy Saraiya & The Outcome - Soundproof box
Satin Chaps - Might i suggest
Satin Hearts - Living in overdrive
Eric Schackne - Hammers & strings
Seeking A Friend For The End Of The World - Original motion picture soundtrack
Kenny Selcer - Don't forget about me
Senayit - Of body
Sophia Serghi - Night of light
Sexy Accident - You're not alone
Sexy Accident - Ninja ninja fight darth vader
Nathan Shaffer - Come bcak america
Nick Simper / Nasty Habits - Live at Scene Vienna
Lorrie Singer & Bradley Kopp - A deep oasis
Andrew Sisk - Treelines
Shevy Smith - Ad astra
Maya Solovey - Forte
Sonali - Speechless
Sonolumina - Sonolumina
Charlene Soraia - Moonchild
Stanleys - Always
Starlings, TN - Heartache in 4/4 time
Steel Chops - Steel Chops
Stolen Rhodes - Falling off the edge
Stone Temple Pilots - Alive in the windy city
Sunspot - The slingshot effect
Dan Susnara - Prison sanctuary open field...prison
Sweet Interference - The falling in and out
T
Lynn Taylor - Barfly
Jesse Terry - Empty seat on a plane
Thieving Irons - Behold, this dreamer!
Kevin M. Thomas - Intensify
Tiger! Tiger! - Cut them where they bleed
Tohpati Bertiga - Riot
Total Babes - Swimming through sunlight
Transformers: Prime - Music from the animatd series
Tunnel Trees - Cuppa joe
Twin Trip - II
U
Ultra Sex Laser - Christmas!
Ultra Sex Laser - The lego EP
Ultra Sex Laser - Greatest hits
V
Naga Valli - Eastern soul
Various Artists - Communicating Vessels - 7-inch series Vol. 1
Various Artists - Sample this: Saustex 2012 sampler
Vassy - Beautiful day
Logan Venderlic - Logan Venderlic
Videoing - Reader LP
Video Love - Mon ange
Frank Viele - Acoustic vudu
Gordon Vincent - Mechanical breakdown
W
Nic Walker - Owls in the dump gift shop
Joanna Weinberg - The piano diaries
Whitelake - Enter the haggis
Why I Must Be Careful - Honeycomb
Bradley Wik and the Charlatans - Burn what you can, bury the rest...
Cole Williams - Out of the basement, out of the box
Chris Willis - Premium / Songs from the love ship v. 1
Jack Wilson - Jack Wilson
Wind Up Radio Sessions - Bird eyes
Wishes and Thieves - Forest fire EP
Tommy Womack - Now what!
Wrinkle Neck Mules - Apprentice to ghosts
Dustry Wright - If we never...
X
Y
YellowTieGuy - Joy in the mourning
Y La Bamba - Court the storm
Benjamin Yusupov's Viola Concerto - Tango rock concerto
Z
Gina Zavalis
Martin Zellar - The hardways
Zero The Antistar - The broken electric lullaby
We would have liked to have seen the actual complete release on this one rather than an advance CD-R. As such, this one definitely gets a thumbs up...but only a partial review because we received only part of the actual final product... (Not Rated)
MINIBLURB*:
X
*A miniblurb is a short descriptive summary of a disc that we found intriguing. We did not have sufficient time to write a proper review but we did not want the disc to go unnoticed. Note that miniblurbs are not rated...but we encourage readers to check out releases receiving miniblurbs because, in some cases, these discs may very well turn out to be the best releases of the month.
* * * * * * * * * * * * * * * * * * * *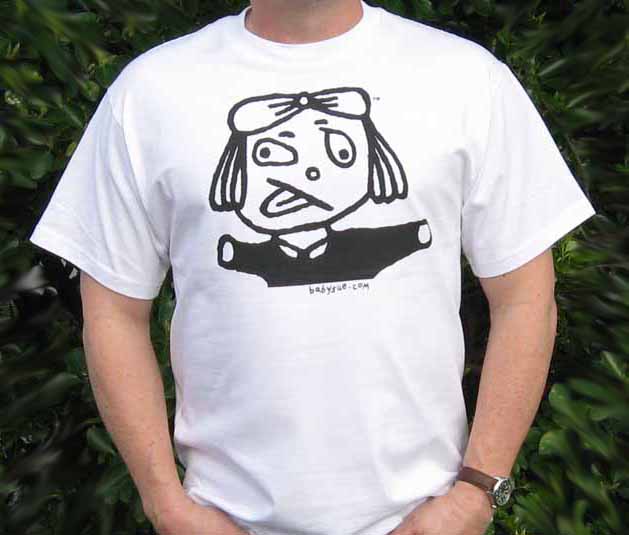 Free babysue T-Shirt.
Get a FREE 100% cotton official babysue T-Shirt now (Size Large or Extra-Large) - no shipping cost either!

Just send a QUICK little e-mail to LMNOP@babysue.com. Include your address and shirt size and...THAT'S IT.

Totally and completely free. Hell, we'll even throw in some free stickers too...
[Please note that this offer is only for folks in the United States due to the high cost of shipping overseas.]
* * * * * * * * * * * * * * * * * * * *