Contact * Donate * Jokes * LMNOP aka dONW7 * Poetry * Recipes * Store * T-Shirts * Review Policies
February 2013 Comics, Recipes, and Reviews from


aka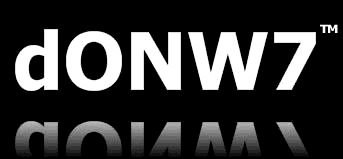 *Top Picks =

Airstrip - Willing (CD, Holidays For Quince, Pop)
Totally convincing and substantial modern pop/rock from the folks in Airstrip. With so much carbon copy music spinning around the planet our ears generally attempt to pick up on those artists and bands whose music is actually unique and real. Willing is an exceptional album and it succeeds on every level possible. These folks play and record underground guitar-driven pop/rock tunes that don't follow traditional formulas...but they're also strangely catchy and addictive. The band is sparked by the impressively cool songwriting skills of Matthew Park...a fellow who seems mainly driven by the desire to create. These songs lack that phony canned sound that ruins so many great albums. Instead of hearing too many thousands of overdubs muddying the mix, here you will only hear the essentials...combined and utilized in such a way as to make the most out of what matters. These songs are simultaneously catchy, hypnotic, trippy, danceable, catchy, and intriguing. The more we spin this...the more captivating the songs become. Nine killer tracks here including "Pleasure Center," "Bitching Hour," "Hit A Wall," and "Magician's Assistant." Great stuff...highly recommended. TOP PICK.


Anders & Kendall - Wild Chorus (CD, Nine Mile Records, Pop)
The first joint collaboration between Anders Parker and Kendall Meade. Parker has released solo albums and was also the leading force in the criminally overlooked 1990s band Varnaline (if you never heard those albums they're well worth seeking out). Meade is best known for her band Mascott and also acts as a supporting artist for other heavyweights like Sparklehorse, Lloyd Cole, Helium, and The Spinanes. Parker and Meade have worked together in the past...she added vocal tracks to all of Ander's solo albums. And over the years the two began a dialogue about possibly recording at some point in the future. In 2011 Anders contacted Kendall about recording an album together...and over the coming months Wild Chorus was born. Recorded at Scott Minor's studio (which is what the album was named after) located in Knoxville, Tennessee, this CD features smooth guitar-driven mid-tempo Americana pop tunes. Parker and Meade are a good match for one another and their vocals intertwine particularly nicely. Eleven groovy tracks here including "We're On Fire, Babe," "Let's Get Lost," "Can You Forgive Me," and "The Sun Will Shine Again Someday."
---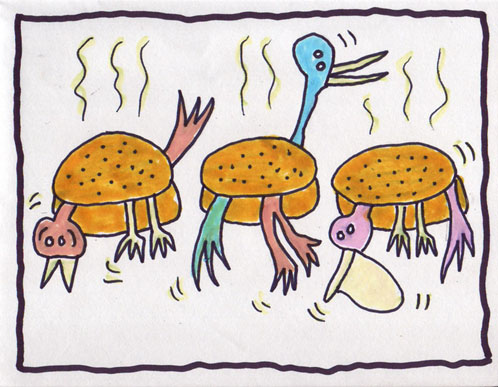 BIRD SANDWICHES
Ingredients:
10 Sparrows
10 Mockingbirds
10 Seagulls
10 Finches
10 Chickens
10 Hawks
10 Eagles
10 Flamingos
10 Turkeys
10 Hummingbirds
100 Large Organic Buns
1 jar of Bird Sauce
1 jar of Bird Mayonnaise
1 jar of Bird Topping
1,000 toothpicks
1 Staple Gun
1 box of Ultra Thick and Painful Staples


Y'know what? Birds make great sandwiches. Not just for kids, but for folks of all ages and sizes. And the good news is...that there's a different kind of bird that's bound to appeal to just about anyone who gets hungry from time to time. Bird Sandwiches are the boss man...they're the real boss. So let's make the damn things before something else comes up and grabs our attention away. Take your LARGE ORGANIC BUNS and spread 'em out on the counter like you're ready to do some real foot stompin'. Make sure they're all at right angles in order to get the maximum jolt of taste. Now take the SPARROWS, MOCKINGBIRDS, SEAGULLS, FINCHES, CHICKENS, HAWKS, EAGLES, FLAMINGOS, TURKEYS, and HUMMINGBIRDS and place each one on a bun. Take care not to kill any of 'em, otherwise important flavors and nutrients will be lost. Birds ain't too fond of sittin' motionless on buns so that's where them there attachment things comes in real handy. As you place each bird on a bun, use some sharp TOOTHPICKS to stab 'em into place. That usually ain't enough to make 'em stop squirmin' completely so then you'll want to grab your STAPLE GUN and teach 'em how to behave by shooting some ULTRA THICK AND PAINFUL STAPLES right through their bodies and into the buns. Once you get the birds to stop moving around too much, gently spread some BIRD SAUCE, BIRD MAYONNAISE, and BIRD TOPPING on the bottom of the bun to give everything some additional flavor portions. Now throw them goddamn Bird Sandwiches out there to anyone in the world who can't wait to eat 'em up. Just be sure to serve them live cuz they taste better that way. Serves 50 hungry bird watchers.
---
Boys School - Boys School (CD, Nectic Collective, Rockin' pop)
WOW. We sure as HELL needed a good solid jolt of loud passionate power pop this month...and the guys in Boys School delivered BIG TIME. This band is the new project created by Brett Farkas who has already made quite a name for himself as a highly skilled guitarist in and around Los Angeles, California. This self-titled album is one HELLUVA explosive spin...chock full of sinfully catchy rockers and music so upbeat that it'll absolutely make you GIDDY. Brett's songs sound something like a cross between early Elvis Costello and Squeeze mixed with the intense energy of T. Rex. Sure there are a couple of softer numbers tossed into the mix to add some variety...but this short l'il album is pretty much a hot jammin' experience that'll have you sweatin' to the max. Farkas writes songs that are instantly memorable and resilient...and after the first spin you'll find yourself wanting to hear them over and over again and again and AGAIN. Kickass tracks include "Talking To Myself," "There It Goes," Lying Next 2U (To You)," and "+747." Hell, there's even a totally bitchin' version of Abba's "S.O.S." that beats the shit out of the original (!). Totally fun and upbeat experience here... TOP PICK.


Brave Baby - Forty Bells (CD, Hearts and Plugs, Pop)
The debut full-length release from Charleston, South Carolina's Brave Baby. The band is comprised of Keon Masters, Christian Chidester, Wolfgang Zimmerman, Jordan Hicks, and Stephen Walker. Forty Belts presents eleven smart well-produced tracks that are strong on melodies...and they also feature some nice slick arrangements. Some of the tracks have a slight progressive feel while others are more direct and accessible. We particularly like the fact that there is such a diverse array of genres presented here. Instead of recording an album of tracks that all sound the same, these guys have managed to effectively write and record a CD where each song stands squarely on its own merits. Our favorite cuts include "Magic and Fire," "Days Of Our Youth," "Living in a Country," and "Denmark." Another well crafted release on the increasingly intriguing Hearts and Plugs label (also home to the bands Run Dan Run and Elim Bolt)...
The Cannanes - Small Batch (CD EP, Lamingtone / Exro, Pop)
This band has been incredibly successful...particularly considering the fact that they've never had (A) a manager, (B) an agent, or (C) a recording deal. The Cannanes originally captured the attention of many by way of their K Records vinyl EP Bored, Angry & Jealous which was released way back in 1986. We may not be the ultimate authority on this band (we haven't heard many of their earlier releases). But from what we're hearing on this EP...we can honestly say we instantly fell in love. Small Batch features six decidedly unpretentious tunes delivered with pure integrity and no filler. Band members Stephen O'Neil and Frances Gibson are obviously making music out of pure passion. And, as such, their cool vibes come through loud and clear on all six tracks. The more we spin this EP the more we love it. Now we'll have to go back and pick up all of this band's previous releases because yes...they are that good...(!). TOP PICK.


Sergio Cervetti - Keyboard3: Works for Piano, Harpsichord & Organ (CD, Navona, Classical/instrumental/keyboards)
This is second full-length disc on the Navona label devoted to the compositions of Sergio Cervetti. The album features performances by Karolina Rojahn, Maria Teresa Chenio, Sergio Cervetti himself, and Karel Martinek. Cervetti is probably still best known for his electronic composition "The Hay Wain" that was featured in the Oliver Stone film Natural Born Killers. But compelling albums like this should make an entirely new audience aware of this talented man's music. Keyboard3: Works for Piano, Harpsichord & Organ is exactly as the title suggests. The album features keyboard instrumentals divided into six sections: "Tres Estudios Australes," "Alberada," "Hard Rock," "Candombe," "Seven Farewells To Paradise," and "In Principio Erat Verbum." The music ranges from frantic to somber. Cervetti writes some rather eclectic stuff...and his music has strange moody qualities that constantly hold the listener's interest. In addition to the audio tracks, this disc also includes extended liner notes, session footage, and free downloadable scores. 68 minutes of uplifting music here (!)...
Chaplin: The Musical - Original Broadway Cast Recording (CD, Sony Masterworks, Broadway cast recording)
In the world of Broadway musicals, there's little room for fence sitting. Folks usually either love this type of entertainment or they can't stand it. Chaplin: The Musical is probably aimed at a mature audience as it tells the story of silent film star legend Charlie Chaplin. The songs are presented with a sense of nostalgia and appreciation for times gone by. The musical stars Rob McClure (as Chaplin), Jim Borstelmann, Jenn Colella, Ethan Khusidman, Erin Mackey, Michael McCormick, Christiane Noll, Zachary Unger, and Wayne Alan Wilcox. This musical opened on Broadway on September 10, 2012 and continues to entertain music lovers from all over the globe. Twenty well-crafted compositions here including "Look at All the People," "Sennett Song," "The Life That You Wished For," and "What Only Love Can See."
Daniel Christian - Speak (Independently released CD, Pop)
The third full-length release from Nashville, Tennessee's Daniel Christian. This young fellow has already received a great deal of admiration and attention on the basis of his last two albums and numerous public performances. Speak should please fans as well as bring in many more. The album features melodic mid-tempo guitar-driven pop music that should appeal to a wide range of listeners. Most of these tracks sound very much like potential hits and they are likely to become very popular on the download circuit. Christian has a great voice for the style of pop songs he writes. And his melodies are instantly familiar sounding and intelligent. Ten smart cuts here including "Find My Voice," "Man Makes The Ark," "I Remember," and "Kiss Each Other."

CNC - False Awakening (Polish import CD EP, Draw, Dream pop)
Although most people in the United States don't seem to be aware of it, Poland is a hotbed of musical activity these days. We're hearing more and more unusual and credible musical artists from the country lately...and there just doesn't seem to be any end to the continual wealth of talent. CNC is the dream pop band comprised of Borys Dejnarowicz (vocals, guitar, keyboards), Piotr Maciejewski (vocals, guitar, bass, keyboards, programming), and Michal Stambulski (vocals, guitar). The False Awakening EP presents five tracks of well-produced dreamy pop that's in the same general vein as bands like Starflyer 59. Our favorite tracks here are "False Awakening," "Vertigo," and "Where I Please." Another fine release from the cool folks at Draw Records.
Charlie Crane - Loanwords (Independently released CD-R, Pop)
Highly melodic independently produced guitar-driven pop/rock from Westmont, Illinois recording artist Charlie Crane. In addition to recording solo material, Crane also plays guitar for babysue favorite Randi Russo. Loanwords features fifteen smart and inventive pop songs in the same general vein as bands like Let's Active (Mitch Easter) and The Apples In Stereo. Some of these songs are basic pop/rock...while others teeter in and out of some rather surprising and different territories. Crane mixes familiar guitar riffs with some surprising and exotic chords...and the songs have wonderful winding melodies that soar into some very adventurous places. If there's one word we would use to describe Loanwords it would be...inspired. These songs are smart, inventive, sometimes catchy and sometimes introspective...but always intriguing and intelligent. Real drums, cool bass lines, killer guitars, and top notch vocals...what more could you ask for? All fifteen tracks are keepers but our own particular favorites include "Weltanschauung," "Zugzwant," "Luftschloss," "Vilmriss," and "Wiedersehen." Instantly memorable and resilient...and unique.
Sparky Davis - The Music of Sparky Davis (CD, Navona, Classical)
The fine folks at Navona have taken it upon themselves to expose the public to an entire group of artists that the world seems largely unaware of...twenty-first century classical composers. In the world of classical music, the great composers of the past seem to have a stronghold on the public consciousness. So much so that people don't seem to be able to comprehend the fact that there are plenty of credible, cool, talented modern composers whose work rivals the past masters. They're just not as well known...yet. One such case of yet another virtually unknown modern composer is Sparky Davis...whose compositions are "modern...not modernistic" (according to the press release). This disc is divided into three sections: "...and One Last Waltz," "Symphony in Bb," and "Fantasy Sonata." These pieces were performed by the Moravian Philharmonic Orchestra along with pianist Karolina Rojahn. Davis's compositions combine elements of modern classical music with some of the more familiar sounds from past masters...creating a wonderfully harmonic world that is organic and beautiful. In addition to the audio tracks, this disc also includes free downloadable scores. Wonderfully resilient music that is passionate and real...
Dead Leaf Echo - Thought & Language (CD-R, Neon Sigh, Progressive atmospheric dream pop)
Beautifully crafted atmospheric dream pop from New York City's Dead Leaf Echo. This is the band's full-length debut...and it's a very special collection of thick orchestrated modern pop compositions with a difference. The songs on this album follow "...the conception and birth of a child and his discovery of thought and language." Kinda heavy stuff mentally...but these songs are more dreamy in nature than such a heavy topic might suggest. Some of these songs remind us of very early recordings from babysue favorite Starflyer 59. The layered instruments are reminiscent of shoegazer bands...but the overall sound is much thicker and more complex. Beautiful vocal harmonies complete the picture...making Thought & Language a spin that you won't soon forget. Sixteen intoxicating cuts here including "Conception," "Memorytraces," "Dream of the Soft," and "Language." Top pick.


The Deer Tracks - The Archer Trilogy Pt. 3 (CD, The Control Group, Pop)
Sweden has always been known for producing interesting pop bands. The Deer Tracks continue the grand tradition by pushing the envelope just a bit further into some slightly unusual territory. This band is the duo of David Lehnberg and Elin Lindfors. The Archer Trilogy Pt. 3 presents an interesting mix of modern techno pop. Some of the tracks are moody and subtle...while others are more densely orchestrated. These ten tracks weave in and out of various genres as the band delves into experimental territory at times. At the heart of the music are those soothing breathy vocals that are the certain trademark of The Deer Tracks' sound. Ten inventive cuts here including "Divine Light," "Red Eyed Zebra," "Explodion," and "The Ghost Hour." The band will be touring North America in February 2013 so be on the lookout for 'em. Cool sounding stuff.
The Dirty Pigeons - The Dirty Pigeons (Independently released CD EP, Pop/rock)
Cool new music from Chicago, Illinois-based band The Dirty Pigeons. The band is comprised of Brian Morrissey, Dan Ingenthron, Ryan Juravic, and Nate Weathers. If you dig passionate uncalculated music, this self-titled EP is sure to deliver. Using traditional instruments, these guys have come up with a handful of true winners here. These songs remind us very much of many of the best up-and-coming acts in Canada that we've heard over the past few years. Some of the tracks are rockers...while others are more subdued...but the overall sound is always strangely captivating and inviting. The melodies...and particularly the vocals...are absolutely out-of-this-world. These guys have hit the ground running. With songs this good, the sky's the limit. Seven kickass cuts here including "Idle Dollars," "The Valley," "Forgot What You Said."
Escondido - The Ghost of Escondido (CD, Kill Canyon, Moody pop)
The debut full-length release from Nashville, Tennessee's Escondido. The band is the duo of Jessica Maros and Tyler James who describe their music as "Americana-inspired desert sex." That might sound like an odd descriptive phase until you hear the songs on The Ghost of Escondido. After hearing the album you'll realize that the term just...fits. These ten songs have a cool smoky moody sound that is strangely inviting and groovy. Lending their support on these tracks are Scotty Murray (lead guitars), Evan Hutchings (drums), and Adam Keafer (bass). This album was recorded live during one 24 hour period in October 2011...which may be the reason for the inviting spontaneous sound. Jessica and Tyler both have intriguing haunting voices...and they seem to merge together seamlessly. This album is bound to catch on like wildfire. The songs have magical qualities that make you want to hear them over and over and over again. Our favorite cuts include "Evil Girls," "Willow Tree," "Black Roses," and "Chase The Moon."
---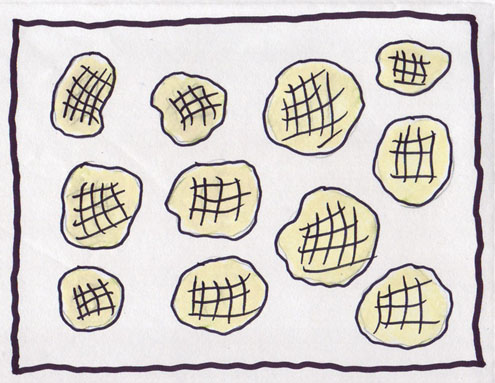 FILTHY ALTERNATIVE CHIPS
Ingredients:
3,523 Chips
1 teaspoon Salt
15 lbs. of Hot Grease
7 cups Sloppy Mud
5 cups Dirt
1 quart Waste Material
2 gallons Body Fluid
2 dozen Pornographic Magazines

Regular Potato Chips used to be good, good, good. But now that things are all different, regular Potato Chips are bad, bad, BAD. It's kinda just like everything. Everything used to be good. But that was before everyone decided that everything you eat is horrible and awful. Rather than get involved in pointless arguments with the shallow assholes who have taken over the planet, a better alternative is to take actions that make them think you want to act and be like them. Eat organic things that don't have any additional nutritional value. And waste your money on foods that look and taste the same as their unhealthy alternatives...but cost TEN TIMES as much. It's easy...and there's no easier thing to please your retarded green friends than a nice inviting bowl of home-prepared Filthy Alternative Chips. But how do you make them? How do you make those Alternative Chips that everyone is going to love to shreds? You don't have to worry no more...because that's what we're going to prepare right this goddamn minute. Buy a bunch of chips...a whole goddamn lot of chips...3,523 CHIPS to be exact. Lay the chips all over the floor until each one is all perfect and pretty-like. Throw the SLOPPY MUD into a heap and stomp on it. Then parade around on the chips until all the mud is slopped all over them. Now dump the WASTE MATERIAL in a corner and roll around in it. Then roll all over the chips until all of the material has adhered to the chips. Put the DIRT in a pail and slowly dump it all over the chips. Then take the BODY FLUID and just pour it all over the goddamn place. Now pour the HOT GREASE into a bathtub and toss in the SALT. Then run pick up all the chips and toss them into the bathtub along with all the pages from the PORNOGRAPHIC MAGAZINES. As everything cooks, pat yourself on the back for coming up with something that was once BAD...but is now GOOD. Aren't you a great little modern eater? Well of course you are. You're a good little eater who knows how to fool yourself into thinking your efforts actually MATTER...
---
---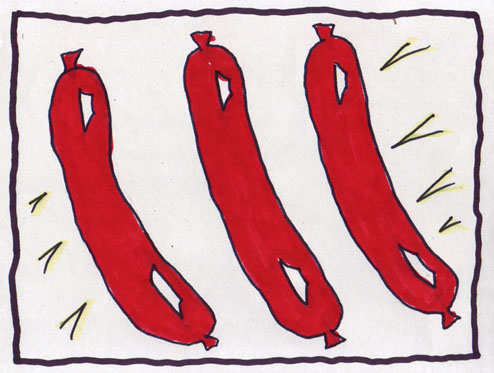 GASTRIC BYPASS DAWGS
Ingredients:
100 pure Pork and Beef Dawgs
Red Dye #7
Red Paint #4
Red Ink #15
12 Rubberization Packets
5 gallons Super Effective Oil
5 gallons Ultra Mod Lubricant
1 tub Grease
1 10CC Glass Syringe
Ultra-Stiff Wooden Food Pushers (Extra Large)

Now that you and your friends have all had Gastric Bypass surgery, getting that nice full satisfied feeling just isn't as easy as it once was...is it? Well those days don't have to be days gone by. Once you serve up a hot piping platter of Gastric Bypass Dawgs everyone will think it's 1987 all over again. To begin, grab up all them PORK AND BEEF DAWGS and line 'em all up on some good quality cookie sheets. Then, using a super fine paint brush, apply the RED DYE #7, the RED PAINT #4, and the RED INK #15 individually to each dawg, making sure that it's all evenly distributed from one end to the other. Now throw the SUPER EFFECTIVE OIL, ULTRA MOD LUBRICANT, and GREASE into a great big vat and push it all around with a great big spoon...while carefully folding in the RUBBERIZATION PACKETS. Once the mixture is all proper and stuff, use the 10CC GLASS SYRINGE to suck it all up. Then inject each dawg with a good solid dose of the stuff to make it so that each one can squeeze right into some really tight spaces. Toss all them cookies sheets into a big oven and cook for one hour. Now it's time to serve. Each guest receives ten piping hot dawgs laid out on a big hearty platter. As each guest gobbles up their dawgs, give them an ULTRA-STIFF WOODEN FOOD PUSHER (extra large size only) to help stuff 'em down their throat so that they get to the stomach place. If there's any difficulty getting the dawgs to go down all the way, just add some additional ULTRA MOD LUBRICANT to each one to help 'em get to where they oughta be. After all ten dawgs has been stuffed down, your guests will have nice hazy smiles on their faces as they realize that they truly have been fed up to the max. Remember...losing weight doesn't have to be easy. It can be as difficult as one-two-THREE.
---
Gray Young - Bonfire (CD, Onwalks Music, Progressive)
Gray Young is the Raleigh, North Carolina-based trio comprised of Chas McKeown (guitar, vocals, sounds), Dan Grinder (bass, synthesizer), and Dopko (drums). Bonfire is the band's third full-length release...and it's a keeper. These songs are instrumental for the most part but there are vocals that pop up from time to time. For a three piece band these guys have a really big sound. These ten songs are ultimately soothing and calming...but there's also an underlying urgency that keeps things from ever getting samey or dull. We can't come up with any appropriate comparisons or possible influences...as these three men seem to be following their own unique musical course. Ten well crafted cuts here including "Canopy Reflected," "Reincarnation Breeze," "Smoke Signals," and "Wanderlust Opposite Bonfire." Smart, intricate, and focused...
Susan James - Driving Toward The Sun (Independently released CD, Pop)
California's Susan James isn't a huge celebrity...yet. But you can bet your booties it's only a matter of time...because Driving Toward The Sun is another resounding success. If you've never heard this young lady's accessible and ultimately uplifting melodic pop, this album will serve as an excellent introduction. James writes and records smooth pop music with heavenly melodies and vocals that are absolutely riveting. Her songs have a perfect classic sound, drenched in cool guitars and mid-tempo rhythms that should appeal to just about anyone who ever loved good solid radio pop. Produced by Ryan Ulyate, Driving Toward The Sun may just be the album that catapults this young lady's career to the next level. Susan calls what she does "California hybrid" music, which is a good way of summing up the overall sound here. You can hear traces of her influences (The Beach Boys, The Byrds) throughout these tracks...as well as a host of other classic artists from the past and present. Every song is a keeper...but our initial favorites include "Driving Toward The Sun," "Wandering," "Mission Bells," and "House of Love." It'd be hard for anyone to dislike this album...it's that good. Highly recommended. Top pick.


Hidden Towers - Olympus Mons (CD, FU:M (File Under Music), Rock)
Those inventive folks at the File Under Music label have created a new label called Defiled Under Music (haw haw!)...an offshoot label with a more intense focus on loud rock bands. And this is one of the first two albums being released to celebrate the launch of the label. Hidden Towers is a Canadian band playing loud heavy music with an obvious emphasis on chops and arrangements. This seven track album goes all over the place in terms of sounds and styles. The songs have a nasty bite but they're more musical than you might expect from such a loud band. This, the band's first full-length release, presents harsh aggressive tunes that are unpredictable and sometimes intense. Our favorite tracks include "Smoke Cloud," "Son of the Dragon," and "Drowning in the Baptismal Font."
Hitchcock - Original Motion Picture Soundtrack: Music by Danny Elfman (CD, Sony Classical, Soundtrack)
More intricate sweeping emotional film soundtrack recordings composed by the one and only Danny Elfman. Hitchcock is a new film about the life of Alfred Hitchcock and his wife Alma Reville. Should be interesting because for some reason most folks know very little about the man who created all those legendary films. It'll be interesting to see Anthony Hopkins in the title role to be sure (?!). Elfman has become one of the leading film composers of our time, creating music for a mind-boggling string of films such as The Nightmare Before Christmas, Edward Scissorhands, Pee-Wee's Big Adventure, Big Fish, Alice In Wonderland, and more. The Hitchcock soundtrack presents twenty-seven perfectly executed compositions, all polished and tweaked to virtual perfection. Elfman continues to lead the pack in the world of soundtrack recordings...and this is yet another direct bull's eye... TOP PICK.


Marc Hurtado with Vomir - 2011 (CD, Tourette, Sound)
WARNING. DIFFICULT LISTENING. The folks at Houston's Tourette label offer some of the most peculiar listening experiences you're likely to find here in these United States. The label offers music by artists who seem to have a complete and total disregard for any sort of commercial appeal. 2011 is a truly bizarre spin. The album contains twelve tracks of machine-like atmospheric sound that will frighten away almost everyone. The tracks sound something like the soundtrack to Eraserhead...except more foreboding and unrelenting. Mark Hurtado is credited with instruments and voice while Vomir is credited with providing "static sound." We love this kinda stuff simply because it's so...antisocial. We can only recommend this for folks who like abstract non-musical projects where the idea is to create a bizarre mood for the entirely of the album. Hurtado and Vomir are playing for a very specific esoteric audience...so it's not likely that this one will become popular on the download circuit anytime soon (haw!). Very difficult listening here...very difficult and ultimately very peculiar...
Hyperbubble + Manda Rin - Hyperbubble + Manda Rin (CD EP, Pure Pop For Now People, Pop)
Combine the talents of the folks in Hyperbubble with the individual talents of Manda Rin (who is one-third of the band Bis)...and you get an instant jolt of pure unadulterated F-U-N. These folks obviously had a great time recording these six techno pop cuts. The songs are light and groovy and ultimately very melodic. We were immediately impressed by the fact that each of these three musicians had their photos taken with their cats for their publicity shots (three beautiful cats, by the way...). But the upbeat danceable synth-pop cuts are what made us go bonkers over this infectious EP. Cool kickass cuts include "Message From Beyond," "Geometry II," "In The Movies," and "Attack of the 3-D Space Kittens." Truly lovable stuff that's a total feelgood experience...
Jeff Kaiser and Phil Skaller - Endless Pie (Double CD, pfMENTUM, Experimental/improvisation/modern jazz/classical)
Far out stuff. Totally far out stuff. Double CD set featuring mind-boggling improvisational musician from California's Jeff Kaiser and Phil Skaller. The tracks on these discs were recorded live in San Diego back in November of 2010...but they're only now being made available to the public. These eighteen tracks feature Kaiser on trumpet, flugelhorn, voice, and electronics and Skaller on prepared piano. These guys are obviously in the same head space here, using instruments as a sort of diving board for their creative energies. Our guess is that there was little advance preparation done here before recording these ultimately spontaneous recordings. The titles of the songs pretty much say it all: "Image of a Punciform," "Anticipated by Bacon," "The Puppet Does Not Have a Soul," "The Problem of Telescopic Vision," "This Paratactic"...killer song titles (!). This music wasn't recorded for money or to please a mass audience. These compositions are forms of pure artistic expression in which these musicians let their minds and fingers take them just about anywhere. Probably too bizarre for the casual listener. But for those wanting something more challenging and unusual well...you get your full 109 minutes' worth here. An exceptional release from two of California's finest experimental musicians.... Top pick.


Lee Harvey Osmond - The Folk Sinner (CD, Latent Recordings, Pop/rock)
Tom Wilson already had a built-in audience prior to forming this band. In addition to releasing solo albums, he was also a former member of the critically acclaimed bands Junkhouse and Blackie and the Rodeo Kings. The Folk Sinner is the second full-length release from Lee Harvey Osmond. This album does not sound like all the others spinning around the earth. Tom writes songs that are basic and sparse...and that's probably what makes them immediately stand out. So many folks use technology as a crutch...but that is definitely not an issue here. These songs were recorded simply and without a lot of unnecessary fanfare. Which is perfect, because it makes the listener focus on the words and melodies...which are the true centerpieces of these tracks. Produced by Michael Timmins, this album comes across sounding at times like a roots type of project...but in actuality it's much more than that. These songs obviously come from a real place in Wilson's soul. His songs are sincere and convincing...and they have strange magnetic staying qualities. Ten unique keepers here including "Oh, Linda," "Devil's Load," "Leave The House," and "Deep Water." The Folk Sinner is destined to be an underground classic over the coming years...and that's a fact. Top pick.


Alex Lubet - Spectral Blues: New Music for Acoustic Guitar (CD, Ravello, Instrumental/acoustic guitar)
If you're in the mood for some incredibly soothing and relaxing music...Spectral Blues just might the album you've been looking for to calm your nerves and sooth your soul. This album presents the sound of Alex Lubet and his steel-string acoustic guitar...and that's it. The music on this album is sparse, naked, ultimately inspired, and ultimately sincere. Lubet's songs are so subtle that many folks may miss all the nuances in the music. Alex plays slowly and thoughtfully...seemingly inspired more by the desire to play less than to play more. In today's world, this is something very rare and unique. Music in most cases has become so complex that the subtleties of the people playing the music sometimes get completely lost. Spectral Blues is divided into two sections. "Reliquary Dances," the first, presents Lubet's first solo guitar compositions. The second half of the disc is divided into eight sections entitled "Eight Ouds" (an oud is a North African/Middle Eastern lute). Lubet's playing is precise, quiet...and completely refreshing and pure. We rarely hear instrumental albums where the musician's personality comes through as crystal clear as this. Wonderfully resonant and compelling from start to finish... TOP PICK.


Onward Chariots - This Is My Confession (CD, Skipping Stones, Pop)
In exact contrast to the way most artists and bands record music in the twenty-first century, This Is My Confession was meant to be listened to as a whole. The idea is cool...but the songs themselves are even more so. The folks in Onward Chariots write and record bright hummable pop music that sounds something like mid-period Kinks sprinkled with fragments from various underground rock/pop bands from the 1990s in the United States. The folks in this Brooklyn-based band write songs that are instantly familiar and ultimately catchy. The songs on This Is My Confession are presented simply without unnecessary overdubs getting in the way. There's a lot to take in here as the band presents sixteen songs that clock in at just over 54 minutes. One smart inventive track quickly follows the next...and before you know it the time has elapsed you have to press play again. Intriguing cuts include "This Is My Confession I," "Mama," "I Want Everything," and "Stay." Totally groovy stuff.

Kowtow Popof - Tastes Like Armaggedon (CD, Wampus Multimedia, Pop)
Another mesmerizing release from underground icon Kowtow Popof. We've gotten major kicks out of this guy's music in the past...but we're even more particularly blown away by the tracks on Tastes Like Armaggedon. Popof provided all the vocals and played all the instruments here with the exception of two guest artists (Rob Santos, Mark Doyon) lending their talents on a couple of tracks. Part of what we love about this guy's music is that...despite the fact that it all sounds very familiar...even after a good bit of listening it becomes very difficult trying to figure out exactly who it sounds like or what his influences might have been (?). Even though the overall sound is markedly different, we appreciate Kowtow's music in the same way that we appreciate Eels albums. Even though the songs themselves change dramatically from track to track, the personality behind the tracks remains surprisingly constant. But the real icing on the cake are the lyrics. Tired of generic shallow lyrics...which are usually the weakest link in all modern recordings? Here you get smart, inventive, thought-provoking words sung with true focus and conviction. Popof really hit the bull's eye this time...whew. Twelve impressive cuts here including "Ataraxis (I Brake For Squirrels)," "Uncanny Valley," "Beginning of the End," "Camp Followers," and "Tamp Down the Horizon." Top pick.


Pusher - Music by Orbital (CD, Silva Screen, Soundtrack)
In 2012 Orbital's Paul Hartnoll surprised lots of folks with the release of the Wonky album, which was the first CD of all new material from the band in eight years. The success of that album no doubt prompted Hartnoll to keep the ball rolling. This album features music recorded for Luis Prieto's remake of the 1996 film Pusher. This was an ambitious project indeed. Paul recorded twenty-fix tracks for this film (the CD clocks in at well over 74 minutes). Some tracks are instrumentals, others feature vocals, and the overall vibe is completely high tech in nature. There's stuff to please a wide range of music fans here...dance music...experimental stuff...electronica...soundtrack material... Hartnoll is obviously back on track here and proves that his music is as credible now as it ever was. This wide-ranging project features smart and inventive tracks such as "Pusher Theme," "Frank Mirror," "Coffee Kneecaps," "Go With The Flo," and "Guns and Party." Groovy stuff with an experimental slant...
---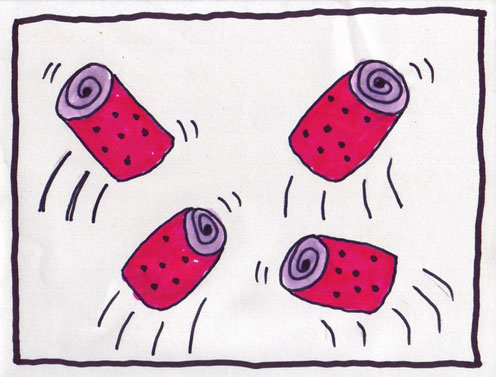 RETSIN POLKA PUMPERS
Ingredients:
50 cups of 100% Pure Liquid Retsin
50 cups of 100% Pure Crystal Retsin
7 lean strips of Polka
14 Tiny Little Electrical Machine Kinda Things
Parsley
Salt
Pepper
7 Tablespoons of Butt

There's nothing to put the capper on a delicious evening meal like an enticing plate full of Retsin Polka Pumpers. Not nuthin', not no way, not NEVER. But these damn things have to be prepared in advance so you need to get started a day or two early. So let's go, go, GO before all the time runs out. Lay out the LEAN STRIPS OF POLKA onto a cutting board and evenly slice each one in half using a precise and delicate imported shiny carving knife. Next, pour the 100% PURE LIQUID RETSIN into a super huge tray and dump the 100% PURE CRYSTAL RETSIN into another tray that's about the same size. Lay the strips of Polka in the Liquid Retsin and let them soak for ten hours. After they have properly soaked, gently lay each strip in the Crystal Retsin making sure that each side gets evenly covered. Now plop the strips in the Liquid Retsin again and let them soak for another ten hours. Then remove and sprinkle with the remaining Crystal Retsin and lay them out on a thin sheet of wax paper. Now lay a TINY LITTLE ELECTRICAL MACHINE KINDA THING inside the middle portion of each Polka strip. Then roll each one tightly, taking great care to make sure the machines are completely covered up. Sprinkle with PARSLEY, SALT, PEPPER, and BUTT. Just before serving the Pumpers, turn them all on and watch as they magically begin to pump like the frantic little mothers that they are. Your guests will FROLIC with DELIGHT as those wonderful little Pumpers slide and shimmy down the backs of their hungry little throats. Ooo-la-la...such a wonderful and tasty treat...
---
Tokyo Rosenthal - Tokyo's Fifth (CD, Rock & Sock, Americana/folk/pop)
If there's one word that sums up this man's music best it would probably be...unpretentious. We really dug the last album we heard from North Carolina's Tokyo Rosenthal. Tokyo's Fifth contains more warm, genuine, sincere tunes recorded by a guy who is obviously making music for all the right reasons. Rosenthal keeps racking up ultra-positive reviews from folks all over the place...and they're all well-deserved. Tokyo's songs are genuinely heartfelt...and they are all delivered with wonderfully subtle qualities. And man oh man...what a voice this guy has. Resonant, masculine, gentle, sincere...no matter what he's singing, Tokyo really and truly sounds like he means it. We were initially surprised at the inclusion of The Beatles' "Helter Skelter"...but when we heard the song we realized that it fits in perfectly. Never has there been a more unusual cover of that song...completely with fiddle replacing the firey guitar lines. It's a truly different take on a song we've all heard so many times. At some point in the future Rosenthal will be more widely known as one of the most important classic singer/songwriters of the twenty-first century. Fifth is chock full of great memorable tunes including "This Ship Will Sail," "Waste Of A Heart," "Smoke and Mirrors," and "Thank You, You're Beautiful." TOP PICK.


Skipping Girl Vinegar - Keep Calm Carry The Monkey (Australian import CD, Popboomerang, Pop)
Another exceptionally rewarding upbeat collection of modern pop tunes from Australia's Skipping Girl Vinegar. We raved about these folks' last album...and we're pleased to report that Keep Calm Carry The Monkey is just as great...if not better. This album was released in Australia in 2011 but is only now being marketed in the United States. Just as was the case with the last release, this album features incredible artwork. The CD is housed in a beautifully designed (die cut) cardboard sleeve. And inside are three tiny embossed separate file folders containing lyrics, photos, and credits. No expense was spared creating this cover, you can be sure of that. But even more rewarding are the songs themselves. Some have a great deal of commercial appeal...while others are more subdued and artsy. But no matter what genre of music they delve into, these folks always manage to come up with something that is credible and ultimately entertaining. Once again, the vocals are exceptional from start to finish. There's not a bad song in the bunch but our own particular favorites include "Chase The Sun," "Hand To Hold," "Central Station," "One Long Week," and "Heart Does Ache." Another bull's eye that we'll be spinning for months to come... TOP PICK.


Snafu - Snafu (CD, Angel Air, Rock/pop/funk)
Wow...hard to believe this was really recorded way back in 1973...??!! Snafu was an early seventies band formed by ex-Procul Harum drummer Bobby Harrison and Mickey Moody. This, the band's debut album, has held up surprisingly well over the years...no doubt in large part due to the excellent sound quality courtesy of producer Vic Smith and the band members themselves. This disc presents all eight tracks that were on the original album plus two bonus tracks ("Dixie Queen" and "Sad Sunday"). These guys plays a mighty ferocious funky brand of rock music that was the staple of the early to mid-1970s. Listening to this now, it seems odd that this band was not recognized more when they were together. The sound is reminiscent of many bands who enjoyed a great deal more commercial success (???). Our favorite cuts here include "Long Gone," "Monday Morning," "Funky Friend," and "That's The Song." In addition to this album, the folks at Angel Air are also making the Snafu albums All Funked Up and Situation Normal available to the public once again... Good solid stuff.
Stand Up Guys - Original Motion Picture Soundtrack: Music by Lyle Workman (CD, Lakeshore, Soundtrack)
This is a different sort of soundtrack album. Instead of orchestral or symphonic music, Lyle Workman presents pop/rock instrumentals with a decidedly Americana type of sound. You'll hear a whole lot of traditional pop/rock instruments here...piano, keyboards, drums, bass, horns...and lots of cool snazzy guitar riffs. This album will appeal not only to folks interested in the film Stand Up Guys...but also to just about anyone who loves good solid tasty instrumentals. The bulk of the album consists of Workman originals...23 in all. But also included are four bonus tracks by Fort Knox Five, Crookers (featuring Yelle), and James Calvin Wilsey. Twenty-seven tracks in all that clock in at over 56 minutes. Cool tracks include "My Favorite Car," "Life Full of Not Good Ideas," "Skedaddle Down the Road," and "Early Bird Special." Totally groovy soundin' stuff...
Tarmac Adam - The History Effect (CD, Onesize, Pop)
Wonderfully warm and vibrant modern pop from Australia's Tarmac Adam. The band is comprised of Matt O'Donnell, Steve Paix, Rueben Alexander, and Nick Seymour. The first thing that made a major impression on us about this album was the fact that the vocals sound eerily similar to Richard Butler (Psychedelic Furs). Butler was one of our top favorite vocalists from the 1980s...so the similarity immediately drew us into the tunes on The History Effect. Songs are what music is really all about...and songs are what make this album such a wonderful and resilient experience. These smooth pop compositions are super smart and intelligent...and they possess incredible warm qualities that are sadly missing in the music created by so many twenty-first century pop artists. These songs are ultimately personal and reflective...and delivered with pure sincerity. The more we spin this album...the more we fall in love with this band's vibe and sound. Mid-tempo pop just doesn't get much better than this. Kickass cuts include "Chalk On Slate," "Giving It Back," "Seven Days," "Slide Down Slowly," and "Home." Highly recommended... TOP PICK.


TSIGOTI - Read Between The Lines...Think Outside Them (CD, Post-Consumer, Progressive rock)
We've yet to hear anything on the Post-Consumer label that wasn't interesting and cool. This is the fourth full-length release from TSIGOTI. This band is treading in some wild terrain here, playing underground progressive rock that reminds us very much of some of the more adventuresome bands from the 1990s. The songs combine avante garde elements with hard rock and abrasive noise...to create a strange whirlwind of modern rock energy. There's a cool stream-of-consciousness feel to these songs that is strangely compelling and unusual. The band is comprised of Thollem McDonas (vocals, piano), Jacopo Andreini (guitar), Piero Spitilli (bass), and Andrea Caprara (drums). These songs are probably too difficult and complex for casual listeners. They seem to be geared more toward that tiny segment of the listening population who demands something more than the same old dribble. Eighteen kickass cuts here including "Great White Lies," "Ballad of a Thin Disguise," "Tomorrow You'll Visit Why," and "Chronicles of Thought Rearranged." Housed in a beautiful cardboard foldout sleeve featuring way cool artwork from Squaz. And thankfully there's a lyric booklet included so you can take in every single word...
These Curious Thoughts - What Is It, And How Did It Get In There? (CD-R EP, Viaduct, Pop)
Five smart melodic pop tunes from Royal Oak, Michigan's These Curious Thoughts. This is a true independent release, apparently created from start to finish by the guys in the band. What Is It, And How Did It Get In There? features hummable upbeat pop tunes that should appeal to a wide range of listeners. The band is comprised of Sean Dunlop (vocals, guitar, keyboards), Jim Radford (lyrics, inspiration), Sean Nasrey (drums, backing vocals), and Dan Steffy (bass). Word seems to be spreading fast about these guys, as they've already managed to rack up some appropriately positive reviews. All five tracks here are keepers...our favorites are "Lead Balloon" and "John Wayne." Good solid stuff with excellent vocals...
Vincent Von Flieger - Day 1 (German import CD, Woodland Recordings, Progressive pop)
This disc immediately caught our attention because Vincent Von Flieger is a member of babysue favorite band Mio Myo. Recorded over the summer of 2012 while the band was taking a break, Day 1 is an intriguing introspective collection of underground pop songs with a difference. These are not traditional pop songs. These compositions are subtle forms of artistic expression in which the Von Flieger let's his imagination take him wherever it may. Eleven perplexing tracks here...and they all have something interesting to offer... Cool stuff.

Yagull - Films (CD, Moonjune, Instrumental)
Yagull is New York City's Sasha Markovic along with her talented associates Lori Reddy (flute), Eylon Tushiner (saxophone), Sonia Choi (cello), and Josh Margolis (drums). This album is a bit different from those we normally hear on the Moonjune label, because these compositions are mainly acoustic in nature. Described as "post-rock chamber music," Films spins very much like the sound track to a film. These tracks are calm and reflective and feature plenty of open space in between the instruments. In addition to the original compositions, the album also features covers of Black Sabbath's "Sabbath Bloody Sabbath" and Cream's "White Room"...both of which are coming from an almost entirely different universe from that in which they were originally created. Fifteen exquisitely produced tracks here that drift by like birds in the sky. Cool tracks include "Dark," "Summerdreamer," "April," and "Distance."
A
A Clever Con - Mannequin love part I
Aina Haina - Aina Haina
Angry - Wild ox shangri-la
Animals At Night - Animals At Night
Apple Dot - Dot the dot
Aquarotten - Aqua is a rotten color
B
Lilly Bell - Try to tune the goddamn thing
Jacob Blazer - I am Jacob
Jason Blum - Radio dial
Bone of Contention - Bone of Contention
Boss - Original television soundtrack
Brand New Trash - Brand New Trash
Breadwinter - Breadwinter one
C
Alan Callahan - Shower of grace
Chestnuts Roasting On A Stove - Dumb nuts
Citadel Besieged - Creation/damnation
Nels Cline / Elliott Sharp - Open the door
Preston Cochran - Stumble into tomorrow
Convergence - The music of Stewart & Gershwin
David Courtney - Midsummer madness/Shooting star
Crummy Band - This is the life worth dying for
Michael C. Cunningham - Gallry
D
Dolls On Fire - Ladies and gentlemen...
Drgn King - "Holy Ghost" b/w "Son of Wolfman"
Gordon Duthie - Shire and city
Mia Dyson - The moment
E
Eggs Are Eggs - Drippy thugs on corn
Amos Elkana - Casino umbro
Electric Shepherd - The imitation garden
El Perro Del Mar - Pale fire
Emperors of Wyoming - Emperors of Wyoming
F
Faco - Em si bemol
Fat Opie - Victoryville
Julian Fernandez - Mi conciones
Focus Features 10th Anniversary - A collection of film score
Lisa Forkish - Bridges
Further To Fly - Wave mechanics union
Fussy Fussy - How many things can go?
G
Susie Glaze & The HiLonesome Band - White swan
Mac Gollehon - La fama
Jess Grant - Innocent invader
Grassmarket - You are for the ocean
Great Divide - Great Divide
H
Kyp Harness - The wrong way
Haunted West - Postlude
Henry Wagons - Expecting company?
Pamela Hines - 3.2.1.
Hissing Makes Us Hissy - Hisses
Il Sogno del Marinaio - La busta gialia
Inside Insects - How we done got ate up
Intestines - The force is forceful
Invader - Original motion picture soundtrack
J
The JAC - I see things differently: Greatest Xmas Hits Vol. 1 2001-2012
Jeepers Jeepers - The whopper in my panties
JLStiles - Presents h ouse of murmurs
Shawn Jones - Struggle makes you stronger
Jumpy Jerks - Jumpy on the beddie bye
K
Red Russell Kamp - Night owl
Judy Kang - Judy Kang
Brendan Kelley - Quicksand
Lili Kendall - Beginnings
Gerald Krampl - Wonder way
L
Lady Antebellum - Own the night world tour
Lady Antebooboo - Own the day tiny tour
Daniel Lantz Trio - Plays Bond
Lapland - Lapland
Juan Sebastian Lach Lau - Islas
Kait Lawson - Until we drown
Lee Boys - Testify
Jim Libby - Made in USA
Life of Pi - Original motion picture soundtrack
Loveskills - Multiplicity
John LT - Suburban superstar
M
Andy Macintyre - Ruby
Brad Mackeson - 1945
Madonna & Rose - Bank cormorants
Tim Mahoney Band - Shine through
Marbin - Last chapter of dreaming
Marina - Believe in love
Bex Marshall - House of mercy
Michael Mauldin - The last musician of UR
Alison May - Earnest keep
Tom Morgan - Orange syringe
Muy Cansado - Let it go
N
Karen Nielsen - Woman
Ninners are for Ninners - Something for dinner
NocturnalSol - In this together
Nowherenauts - Warned you
O
Ocean Floor - Falling star castle
Onoono - Yokoyoke
P
Para Vista Social Club - Scott & charlene's wedding
Charlie Parr - Barnswallow
Nick Peay - Feathers & fables
Dan Phillips BKK Trio - Bangkok edge
Garrett Pierce - City of sand
Pint of Pint - How to quart the quart
PLS PLS - EP EP
Q
R
Red Dawn - Original motion picture soundtrack
Red Sammy - These poems with kerosene
Rob Roper - The other side of nowhere
Rockabye Baby - Lullaby renditions of Rush
Peter Rodocker & So It Is - We're still here
Rumper Rump - How to dump the rump
Run 8 Rider - Tenderfoot
S
Micky Saunders / Dan Susnara - Known & better tomorrows
Save The Date - Original motion picture soundtrack
Garrett Sawyer - Chronicles and vanity
Marcus Schwartz & Monvelyno Alexis - Vo-duo nou la
Seven Psychopaths - Original motion picture soundtrack
Shakespeare's Memory - Shakespeare's Memory
Sideman Sez - A Rob Loyot project
Silver Linings Playbook - Original motion picture soundtrack
Jeffrey Stadelman - Messenger and other works of Jeremy Stadelman
Stand Up Guys - Original motion picture soundtrack
Stomacher - Clara
Stone Foxes - Small fires
Summarily Dismissed - To each!
Summer Hours - Closer still
Sunshine - Sunshine
Swallows - Witching & divining
Sweet Knievel - Collapsible
T
20 Something - 20 Something
Aly Tadros - The fits
Tapestry Ensemble - New York moments
Tomfun Orchestra - Earthworm heart
Jay Trainer Band - Jay Trainer Band
Joe Treewater - The ice cream social
Tune Into My Mind Radio - A tribute to multi-talented vocalist Kelly Keeling
Two Hours Traffic - Foolish blood
U
Up The Up - Down down down
V
Bobby Jo Valentine - Home
Various Curelties - Various Cruelties
Vulnerable - We're not
VYIE - Nightingale
W
Tim Warfield - Jazzy christmas
Wiggy's Popo - Flowers for Wiggy's Popo
X
XXX Means Dull - Pornography stinks
Y
Yup - Nope
Z
Zeezee - Weewee
Zzinn - Wullywoo